Making Dinosaurs Dance: A Toolkit for Digital Design in Museums
Making Dinosaurs Dance takes the reader behind the scenes to learn how the American Museum of Natural History innovates visitor digital engagement, highlighting design techniques used both there and at museums around the world. Based on my six years at the landmark institution that inspired the Night at the Museum franchise, the book introduces The Six Tools of Digital Design – user research, rapid prototyping, public piloting, iterative design, youth collaboration, and teaming up – then applies them through case studies across a range of topics:
Combining digital experience design with physical museum assets in a guided format, featuring Crime Scene Neanderthal (CSN), a youth co-designed and facilitated in-Hall experience that invited museum visitors to use a mobile app and other tools to investigate a science-based mystery.
Game-based learning, featuring three case studies: a tabletop games (Pterosaurs: The Card Game), mobile games (Playing with Dinos), and commercial off-the-shelf games (Minecraft).
Mobile augmented reality games, featuring MicroRangers, which used AR to invite visitors to shrink to microscopic size and explore the Museum to combat threats to global biodiversity.
XR experience design, featuring case studies about 360 videos on paleontology and virtual reality projects about ocean life.
Science visualizations, featuring Galactic Golf, an astro-visualization that addressed the topics of mass and gravity through a round of mixed reality Martian golf; interactive science visualizations that invited visitors to hold CT-scans of bat skulls in their hand; and Finding Flamingos, a youth program focused on how Conservation Biologists protect endangered flamingos through GIS mapping and predictions software.
In addition, the book explores related topics at institutions in Greece and France, and from Washington, D.C. to California.
This book will be an invaluable resource and a source of inspiration for museum professionals, designers, educators for years to come. Published by Rowman and Littlefield and the American Alliance of Museums.
Order copies in bulk from here or individual copies from here.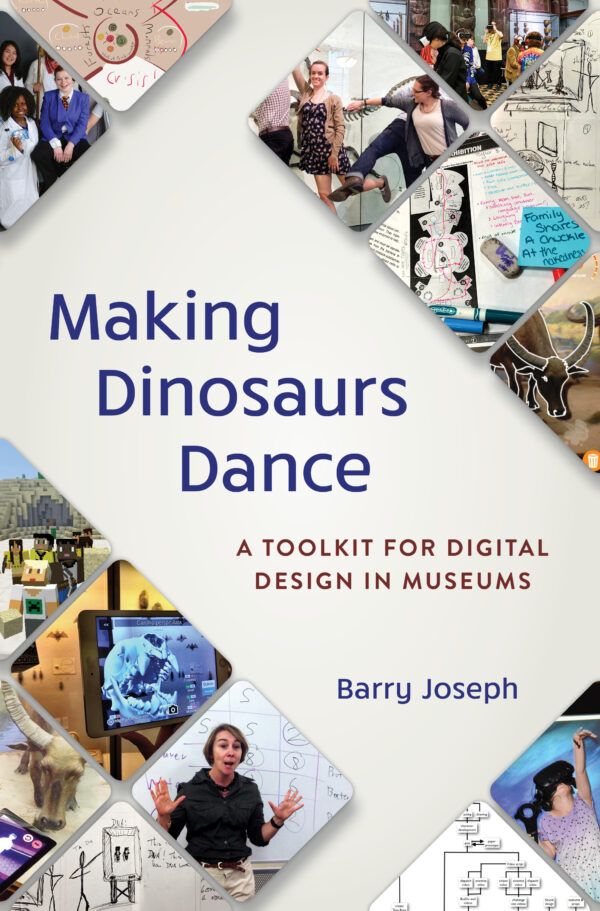 Early Word:
"A wonderful guide to the kind of agile, experimental, responsive operational strategies needed in the museum of the future."
— Elizabeth Merritt, Founding Director, Center for the Future of Museums, American Alliance of Museums                                             
"Personal and engaging, this book reveals the opportunities and surprises of working directly with museum visitors in designing new digital experiences. Refreshingly honest and practical it offers even the smallest museum insights into how to design things that visitors – even teenagers – will enjoy."
— Seb Chan, Director & CEO, ACMI
"Part how-to guide, part seminar workshop, and part magical mystery tour of Barry's time at the Museum–an essential introduction to how digital technologies can (and can't!) transform the visitor experience. His love for the Museum shines through." — Bella Desai, former Director of Public Programs and Exhibition Education, AMNH
"A delight! Joseph provides readers with a clearly articulated and robust framework. It has something for emerging professionals looking to equip themselves with digital design tools while offering those already-emerged a great example of the benefits of reflecting on their practice."
— Ed Rodley, Co-Founder & Principal, The Experience Alchemists
"Making Dinosaurs Dance gives readers an incredible behind-the-scenes view into the pathways and processes that have driven many innovative, digital projects in museums. Each case study – showing what the Six Tools for Digital Design look like in action – provides readers with relatable scenarios and a more realistic view of what it means to effectively use these tools to advance your own digital design projects."
— Madlyn Larson, Associate Director of Education Initiatives, Natural History Museum of Utah
"This book feels like a baton that is being passed, a baton that will open up possibility spaces for the next round of innovation."
— Hannah Jaris, program manager of adult education, New York Botanical Garden
"An impassioned look into the many ways Joseph has used digital design to transform museums and visitor experiences. Joseph describes his pioneering work through vivid case studies and insightful interviews, offering a framework and tools for utilizing his uniquely qualified approach."
— Margaret Wallace, CEO & Co-Founder, Playmatics
"This book is relatable and accessible, offering an honest look at working in a museum. Based on real genuine experience, reading it was like having a charming conversation with the author. And this isn't just me being a nice Canadian!"
— France Therrien, Learning Specialist, Canadian Museum of History and Canadian War Museum
"Barry Joseph is one of the foremost experts on digital design, youth learning, and innovation. If you're interested in these spaces there is no better place to look."
— Jeremy Kenisky, CTO @ XALTER
"Barry Joseph is a force of nature. Few can match the impact that he has had in pulling digital museum education into the 21st century."
— Grace Collins, CEO, Snowbright Studio
"The publication is an important record for digital design at an important moment in museology."
— Neal Stimler, President of Stimler Advantage